Your Water Landscaping Professionals
GREEN WALL VERTICAL PLANTING
Innovative growing system designed to transform any wall, fence or pillar into an edible oasis or design feature.
Add greenery to entertaining areas, grow your own herbs and veggies, or create a statement entrance with the Vertical GreenWall system.The system is modular, so you can connect multiple brackets together or expand your garden over time.
Easily drill or hook the brackets into a fence or wall.Like all great gardens, vertical walls require ongoing maintenance and upkeep which is why we designed a system with removable pots, allowing you to switch plants over to suit seasonal trends.
PLANTER CELL "VegeTray 550"
A modular/stackable vegetable planting system that caters for both conventional soil-based and wick hydroponic planting when used with specially designed components.
The tray can stack u to maximum 4 tiers with the use of support poles, for vertical planting.
Six cells within the tray acts as the reservoir for self-levelling water storage to feed the vegetable roots. In addition an inlet and outlet design at the sides of the tray, just above the reservoirs, allows excess water to flow onto adjacent trays when connected or act as an overflow feature.
GROW BIO ORGNICALLY SUSTAINABLE LIQUID FERTILIZER
GrowTM is a Bio Organically Sustainable liquid fertilizer, developed as an alternative to chemical fertilizers, seaweed fertilizers and other garden products. Grow is a simple yet complete balance of nutrients for all your gardening needs. It's organic and safe for your family and the environment. Grow naturally with a bio organic fertilizer for you and your family's well being.
SPRAY GUN
The Ezy Grip Watering Gun is easy to use with its rear trigger to control the water flow. An extra flow control knob is available to increase or decrease the amount of water being delivered. The trigger also features a "self closing" action, so when it is released, the water flow automatically shuts off to save water.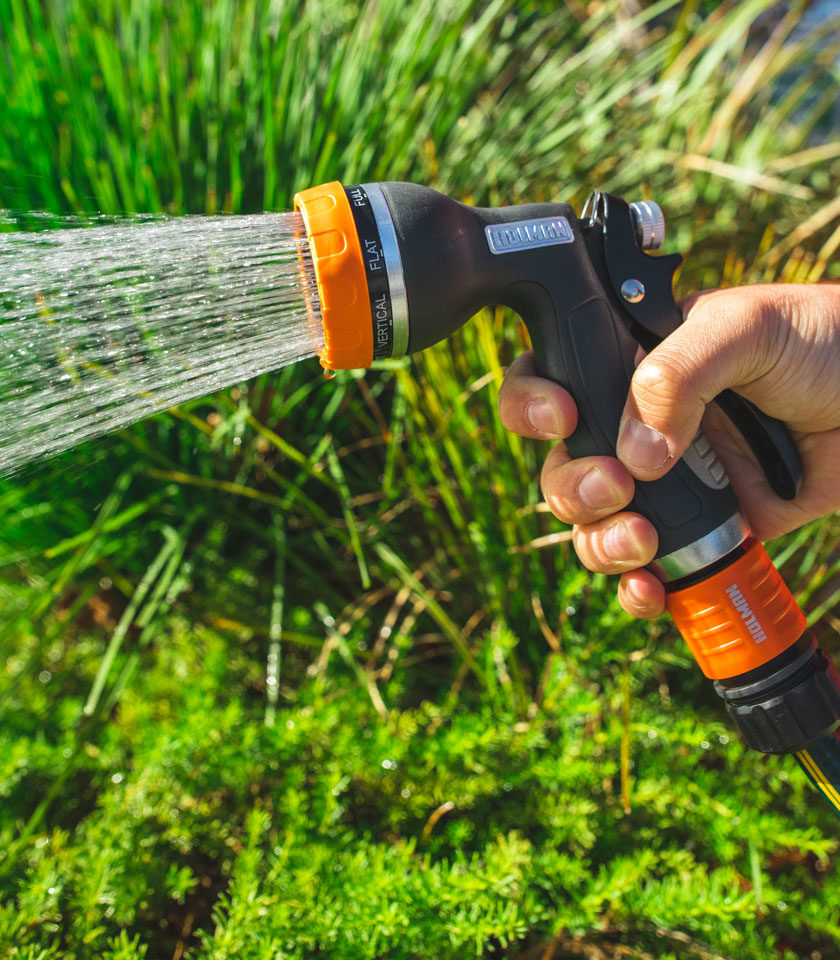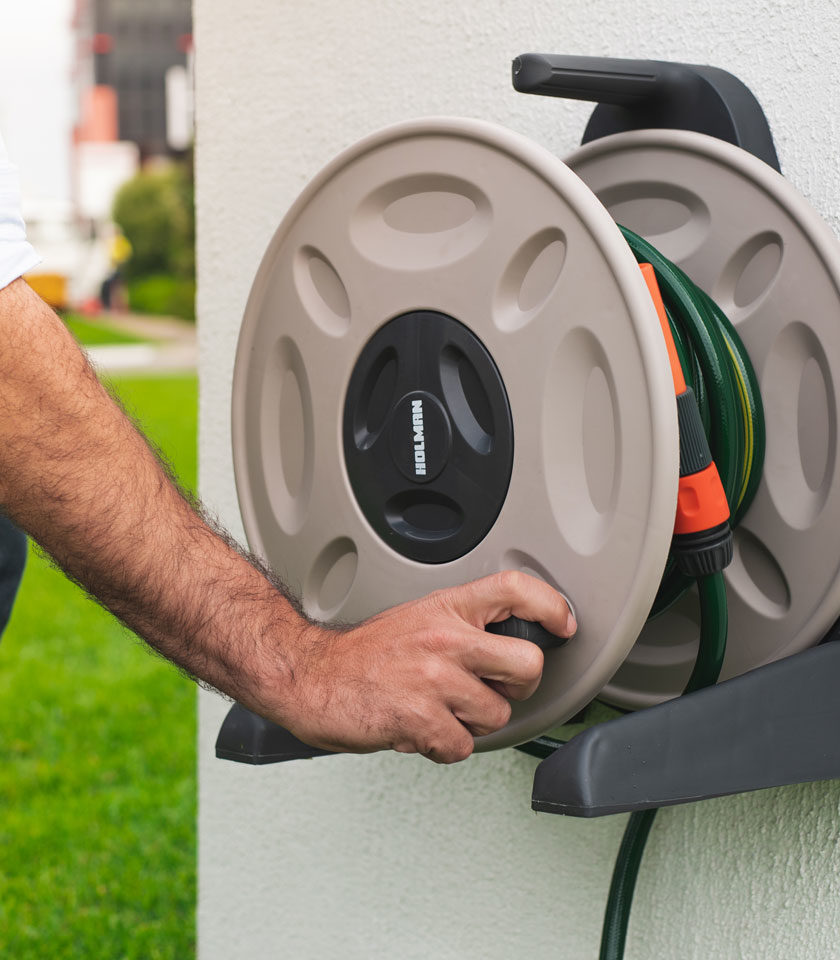 WALL MOUNTED HOSE REEL
The Wall Mounted Hose Reel bolts securely to a wall and winds up manually with easy to use handle. It includes a 15 metre quality reinforced garden hose that is fitted with 12mm hose fittings and an adjustable spray nozzle. It has a large easy to bolt on bracket. The Hose Reel has a carry handle and can be removed from the bracket for storage when away on holidays.
HOLMAN 9 FUNCTION WAND
Watering hanging baskets and high pots is easier than ever with our 850mm long multi-function spray wand.
With 9 spray functions, an adjustable head, flow control, and a wall mount included, this wand is sure to become a regular fixture in your garden setup.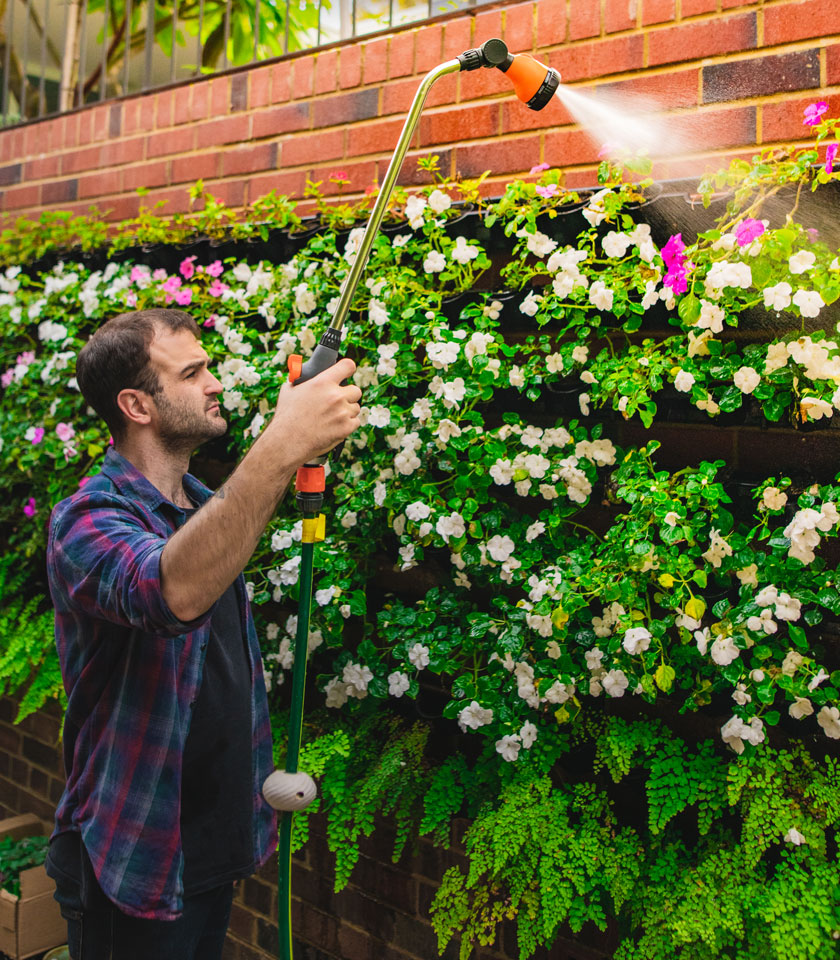 GARDEN LIGHT CONTROLLER
Take lighting control beyond the garden with the Holman Home smartphone app. This RGB Colour Garden Light Controller features Wi‑Fi connectivity, allowing access to your Garden Lights from anywhere in the world. Smart automations and custom scene options allow you to light up your garden, however you want. Connect up to 16 Garden Light Controllers to Holman Home, for the ultimate lighting display.
RAINBIRD ROTOR POP UP SPRINKLER
The Rain Bird 5 series professional grade rotor offers rugged durability and performance along with the added precision of 12 extra nozzles in this Pro Pack to enable balancing precipitation rates with other rotors on the zone or adjusting trajectory to clear low tree branches or to water windy areas.
SMART IRRIGATION SOLENOID CONTROLLER GREENAPP
Ready to sit down, put your feet up and manage your irrigation from a Smart-Phone?
The BERMAD GreenApp™ is a smart, flexible, easy to use, Bluetooth single station irrigation controller integrated with a solenoid actuator for easy and compact installation on any control valve.